Hostelco 2018, one of Spain's most prestigious shows of equipment for the hotel, restaurant and catering industry, shone out brightly again, as it did years ago, thanks to its integration in Alimentaria, the Barcelona food show. The show concluded its first, highly successful joint event on 19th April. The more than 4,500 exhibiting companies from 70 countries and 150,000 visitors highlight the strength of this combined show that took place at the Gran Vía premises of Fira de Barcelona.
Araven presents its innovations at Hostelco 2018
Visitors to Hostelco know that companies showcase all their latest products and innovations at this fair. The opportunity to discover the very latest trends in gastronomy and food and the chance to see new products and innovative solutions for equipping hotel and restaurant businesses makes shows like Hostelco the perfect meeting place for this industry's supply and demand.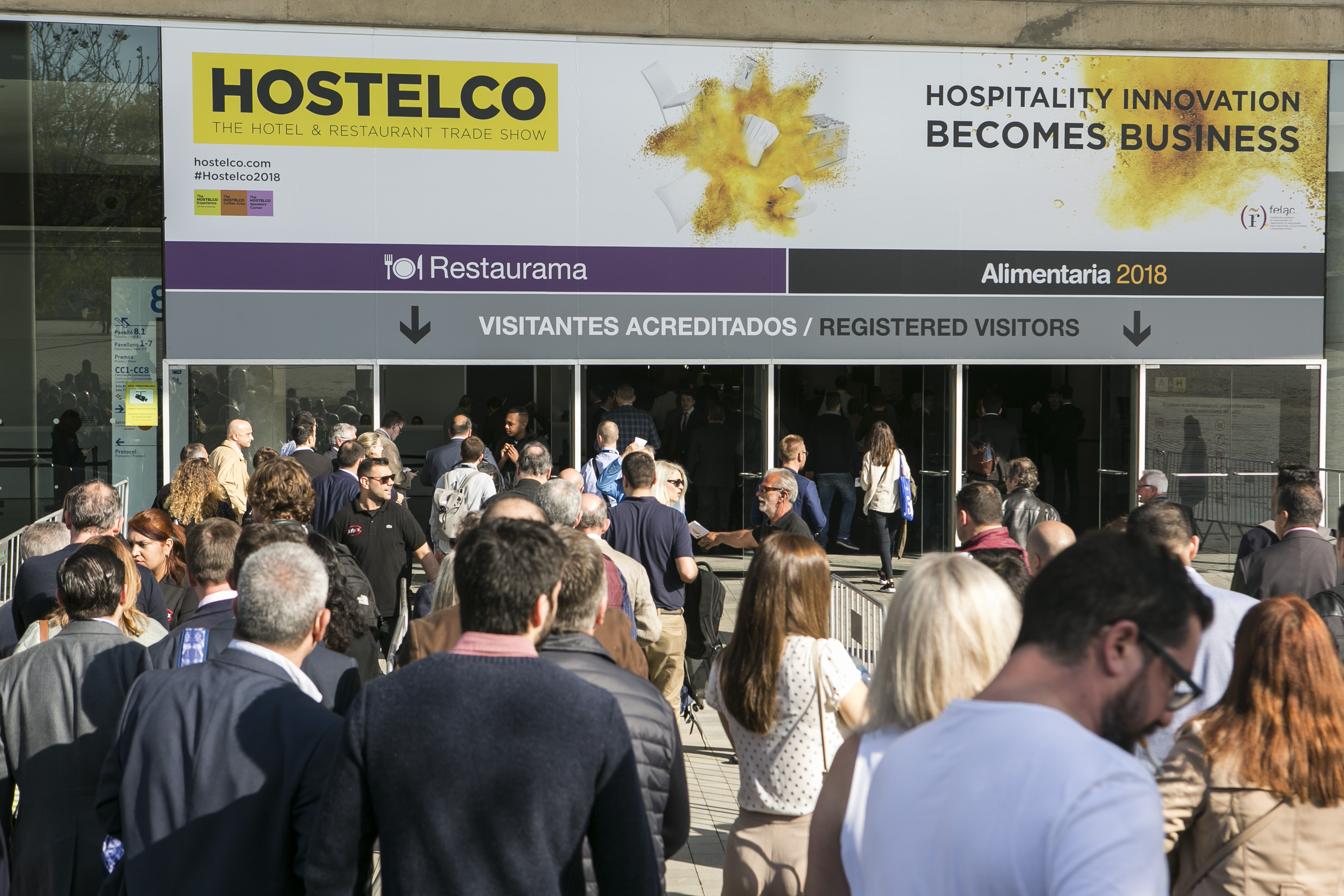 Araven considers its experience at Hostelco a total success in numbers of visitors both in terms of their varied backgrounds and the interest they have shown in our brand and products. The show also gave us the opportunity to reunite with our distributors and long-standing customers as well as the chance to welcome new customers.
This news post is for those of you who did not get to visit Araven's stand at Hostelco 2018, to present all our latest innovations: over 30 products for kitchen processes including handling, storing, serving and cleaning.
One of our brand new products for 2018 is our new bisphenol A free (BPA-free) black GastroNorm containers, ideal for use at cold counters or buffet zones, designed to guarantee food quality and to make the tasks of catering staff easier. Our new products also include a tray stacking trolley, a table serving trolley, a wide range of sauce products and new additions to our range of items for cleaning.
Black containers for cold counters

Our new black GastroNorm containers for cold counters are another excellent example of Araven's great innovations. They are made in ABS, a material that is resistant to impacts and BPA free. The design of these containers facilitates food preparation, storage, batching and serving. The containers can be fitted with Araven's airtight, bi-injection, rubber seal lids or one container can be used to cover another, taking full advantage o their volume.
Using our new white permanent, soluble automatic pencil, a record of the food contained is kept on the integrated traceability label, remaining until the container goes to the dishwasher. Finally, the containers' black finish and GastroNorm sizes make them an elegant, versatile element for display counters.
Tray stacking trolleys and serving trolleys
The same care and attention to all aspects of its products has gone into the innovations Araven presented at Hostelco, which included a self clearing tray trolley and a serving trolley with accessories to make the work of dining room staff easier when setting, serving and clearing tables. Araven also presented a sauce bottle organiser to keep handling areas in the kitchen tidier and a sauce dispenser stand for dining rooms that keeps sauces at the proper temperature either using ice or hot water.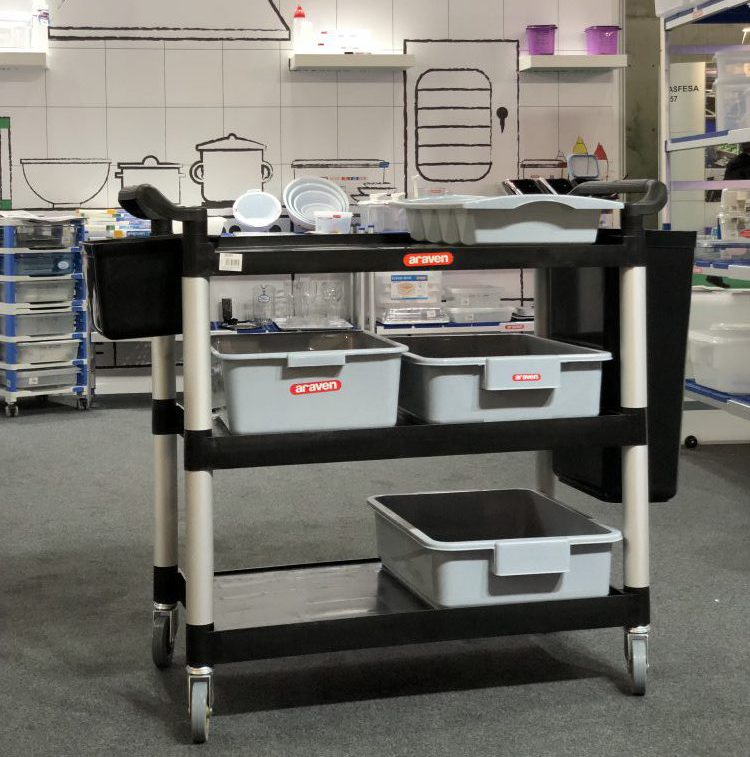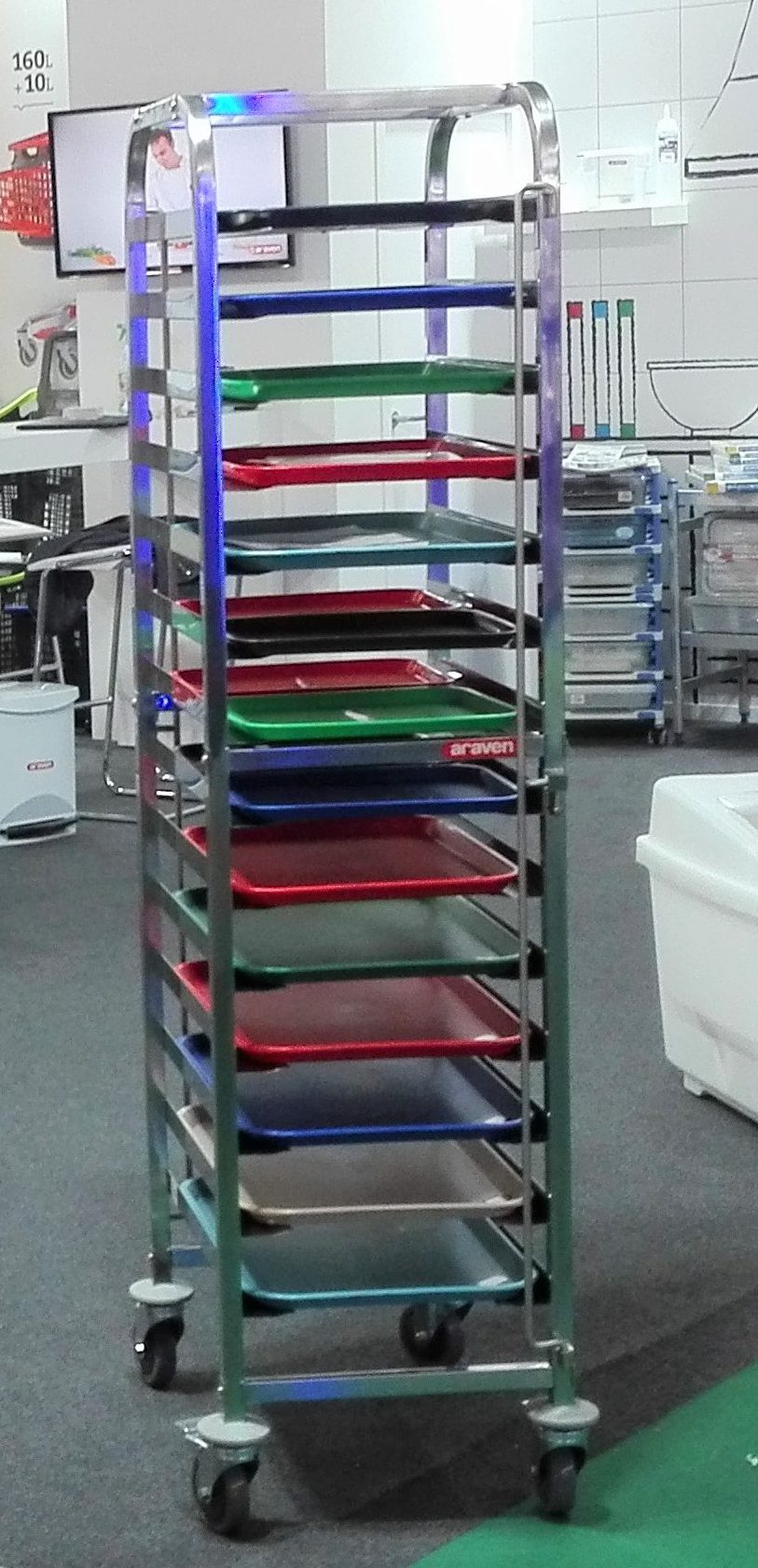 New 50 L rubbish bin
Our 50 L rubbish bin (in green, blue and yellow) for correct waste management is the new addition to our already existing range of bins in 80, 100 and 120 litre capacities. Rounding off our new products are our professional cleaning bucket and caution signs, adding to the extensive range of solutions we have provided for professionals in the hotel and restaurant business for more than 40 years.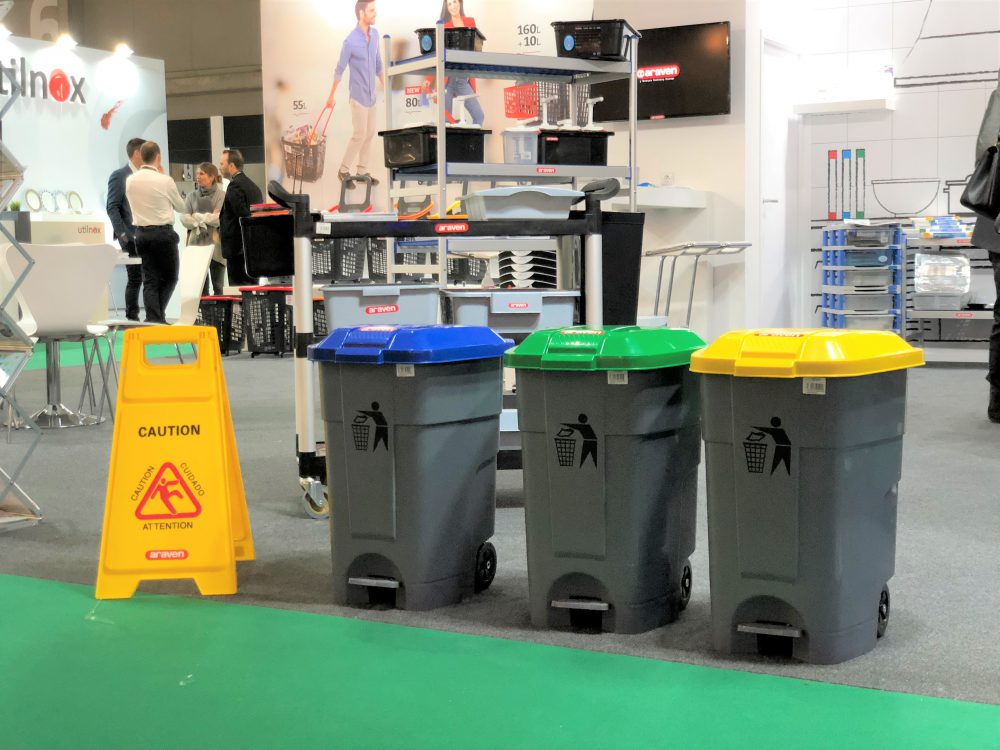 A big thank you to all those people who visited us at our stand, we invite you consult our website for more detailed information on all our latest products and, as always, we are at your disposal for any questions or queries you may have.