SAFETY AND QUALITY IN OUTDOOR DINING IS POSSIBLE WITH ARAVEN'S POLYCARBONATE CUP AND GLASS
The cups and glasses, perfect for tourist complexes, swimming pools or campsites, are reusable and respectful towards the environment, avoiding plastic waste being produced in these areas
Their transparency and classic design make them elegant- the customer can barely notice the difference from drinking from real glasses
The lovely weather makes us want to go outside and enjoy outdoor activities that we cannot do all year round. Beaches, campsites, swimming pools and tourist complexes are at their busiest during the summer season. Eating in these places is a great alternative to enjoy the summer, but, in many occasions, the quality and safety of the tableware that are designed for outdoor use can play a trick on us. Aware of this, Araven offers a range of polycarbonate cups and glasses: practical, resistant and reusable whilst being respectful to the environment.
In addition, their transparency and elegant, classic design make them very similar to glassware, thus ensuring that customers are comfortable and enjoy their drink.
It is always recommended that the tableware used in these areas is made from unbreakable materials, meaning glass is always banned. The risks from possible breakages and unwanted injuries mean the caterer needs plates, glasses and cups made from alternative materials such as plastic. You can find cheap plastic tableware on the market such as polystyrene, However, as it is a disposable product, a lot of waste is generated, which translates into rubbish for the establishment eventually having a high environmental impact.
Another more sustainable option is the one launched by Araven: polycarbonate tableware, which extends the existing range of traditional glasses in different sizes, from cider glasses to polycarbonate jars. The new product has a long life span and is reusable, thus minimizing the environmental impact, and avoiding the generation of plastic rubbish in these areas.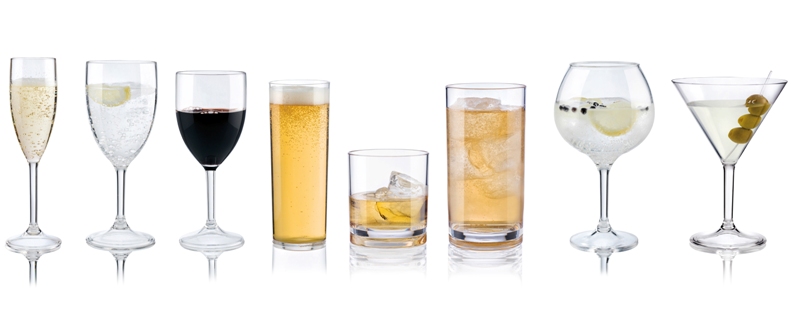 Its transparent visual effect similar to glass makes polycarbonate the perfect material to use for cups and glasses. It can be safely washed in the dishwasher, and a high resistance to impact is guaranteed.
Araven's new range can also be customized with silkscreen and engravings, which contribute to the creation of a brand image.
Araven's new cups and glasses consist of an eight-piece set. All of them have an elegant and classic design so that the client can barely notice the difference from glassware: