The world's top suppliers of machinery, furniture and technology for the hospitality sector are looking ahead to HostMilano 2023, where they are all excited to show off their latest innovations. The 43rd edition of the Host exhibition will be held between 13 and 17 October at Fiera di Milano, where exhibitors and visitors from all over the world will come together to talk all things related to the HoReCa industry.
The most exciting new trends in technology and sustainability will be unveiled at Host Milano 2023 for the first time
As always, this year's Host provides the perfect opportunity to find out which trends we need to keep an eye on and discover the technological developments made in the past year that are most relevant to our sector.
Over the past few years, we have seen how artificial intelligence, virtual and augmented reality, and social media, in addition to other emerging technologies, have continued to advance, resulting in some interesting changes in the way we work, such as intuitive interfaces, the automation of routine operations, remotely connected systems, and machines that are versatile and multi-function.
HostMilano 2023 will be held between 13 and 17 October. Over 1345 exhibitors from 43 countries will introduce the latest cutting-edge equipment specifically for the hospitality sector
What's more, the hospitality profession is beginning to adopt sustainability practices in order to help reduce its environmental impact. Pay special attention to the Smart Label – Host Innovation Award, which is given by HostMilano and Fiera Milano to the best sustainable innovation presented at the exhibition.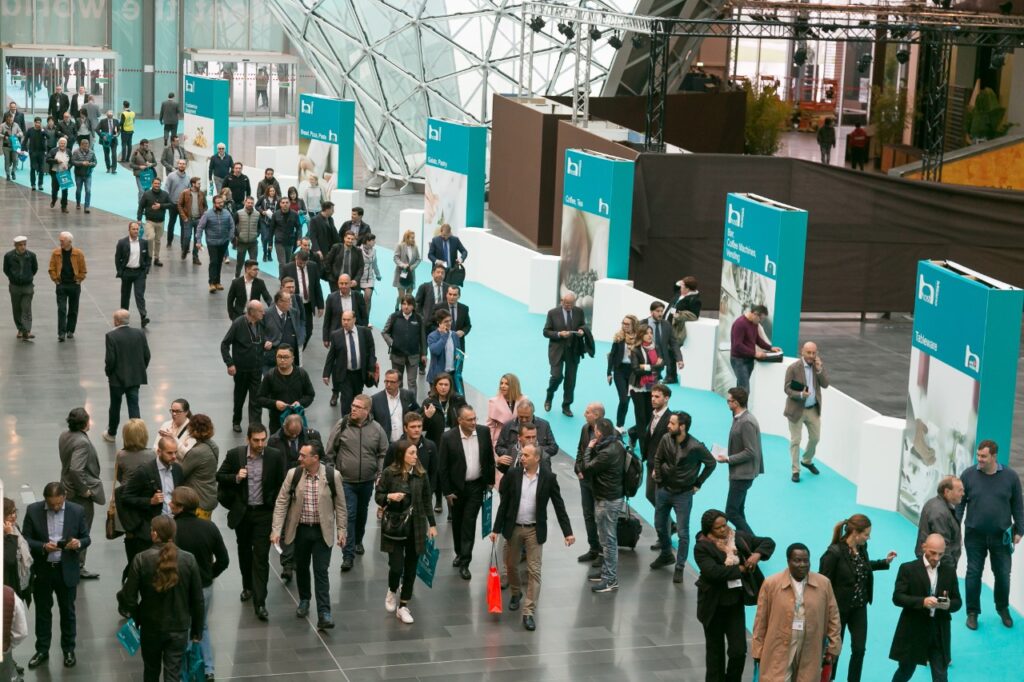 Host in numbers
1345 exhibitors from 43 countries
Top 5 exhibitor countries: Germany, France, Spain, USA, Portugal
110,000 visitors from 144 countries (76% European)
Top 5 visitor countries: Germany, Spain, France, Switzerland, Greece
Over 800 events scheduled
Three exhibition areas:

Food Service Equipment / Bakery, Pizza, Pasta
Coffee, Tea / Bars, Coffee Machines, Vending / Gelato, Pastry
Furniture, Technology / Tableware

Key details:

Host Milano dates: 13–17 October 2023
Host Milano opening hours: 9:30 am to 6:30 pm
Host Milano floor plan. See the interactive map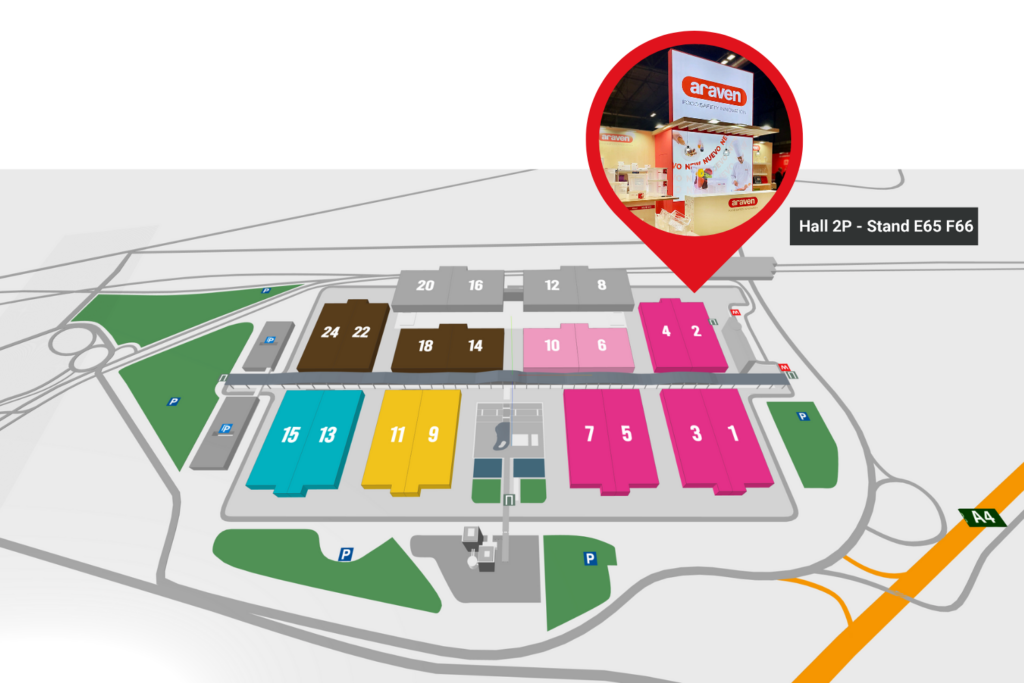 New products at Araven's Host Milano 2023 stand
Araven is one of 79 Spanish companies featured in the Host Milano exhibitor list at this year's event. You will be able to find us in Hall 2 at stand E65–F66, where we will be exhibiting the newest additions to our catalogue. In this large, refurbished space, our brand's commitment to innovation, professional excellence and environmental protection will be on full display in our brand-new products for receiving, storing, handling, serving and transporting food.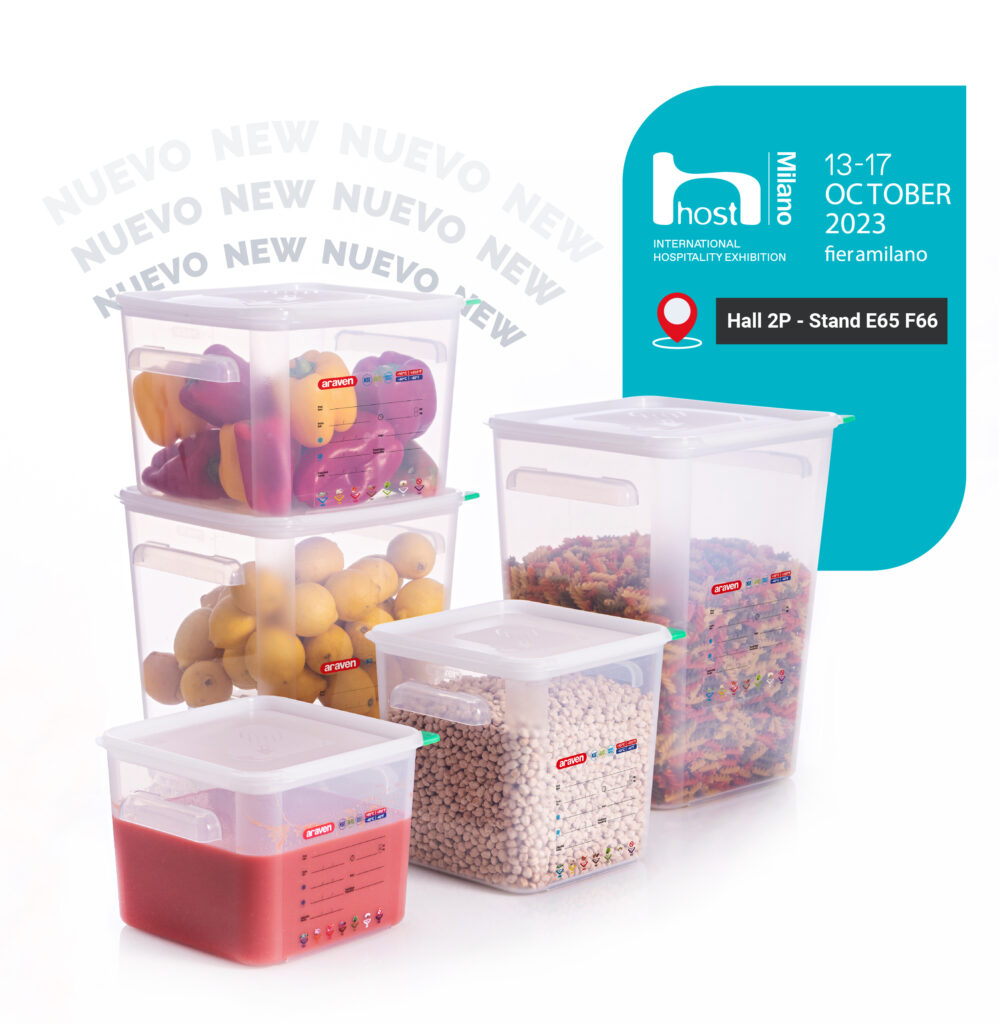 New square containers
Araven has expanded its highly regarded range of food containers with 14 new square models that enjoy all of the unique features of the company's star item, allowing you to optimise storage to ensure that no space is left unfilled.
Square containers are perfect for storing dry foods in bulk (pulses, cereals, nuts, etc.) because they don't let humidity in, thus preventing damage from being caused to the food. They also help to protect foods that are susceptible to oxidation or loss of aroma (biscuits, snacks, dehydrated goods, spices, etc.) and, since they are airtight, they are suitable for storing and transporting sauces, creams and other liquid products
Sauce dispensers: mini and three-nozzle bottles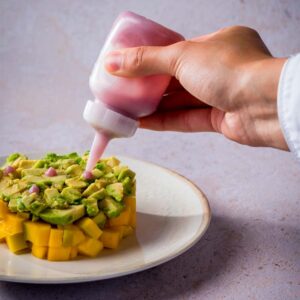 Our range of squeeze bottles and dispensers welcomes the addition of mini bottles, perfect for accurately serving concentrated sauces, and three-nozzle bottles, which allow you to decorate plates in a simple, more uniform way. Now you can enjoy the benefits of all Araven products while storing and serving all kinds of dressings.
3R bin range
The 3R recycled bin family – which are reusable and made from recycled and recyclable material – is ideal for sorting and storing waste prior to its treatment. The range comes in three different sizes (22, 25 and 49 litres) and five different lid colours, with a total of 18 products. One of their star features is that they are 100% made from waste produced during our manufacture process, which helps reduce our CO2 emissions by 65% and represents another way in which we help protect our planet.
Want to find out about all our new products at Host?
Book a meeting with us at the exhibition. Come and see us in Milan and we'll show you how we can help guarantee food safety in your hospitality business. Click here

For that, you'll need to use professional equipment in your kitchen. Araven boasts a wide range of products for storing food in your bar or restaurant. We hope to see you at Host! In the meantime you can download our catalogue here, which will give you an idea of all the ways in which we can give your company a helping hand!