In professional kitchens of restaurants, hotels, or catering establishments food undergoes different preparations that can involve risky situations in terms of food preservation and handling processes. In today's post we want to examine the following basic utensils that form part of your kitchen equipment and that will help you to manage and handle foods as well as complying with all the health and hygiene standards and regulations.
Food pans or containers
These are real "all-rounders" in professional kitchens. Available in different materials, they have multiple uses; to contain and keep foods hot or cold, to plate up dishes and to display and present food in catering and restaurant buffets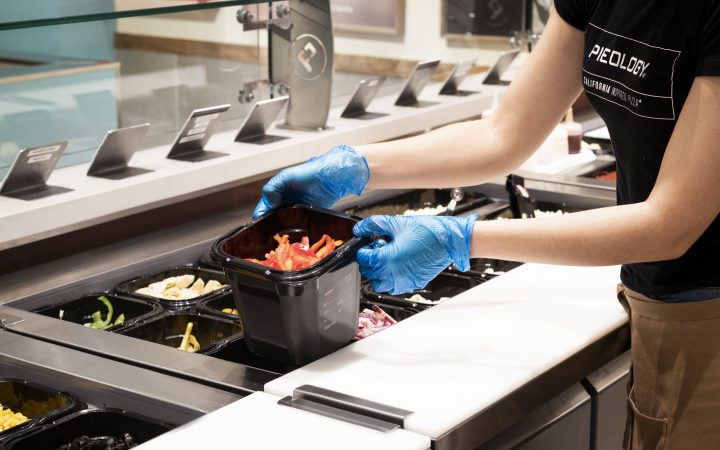 Most food pans on the market are standardised GastroNorm sizes. The catering equipment industry uses standard size products to ensure that equipment, appliances, and containers combine together in kitchens, cold chambers, and display areas.
Araven BASIC GN polycarbonate food pans can withstand temperature ranges of -40º to +99º, and are perfect for preserving or freezing processes, hot/cold display counters … Their excellent design makes them easy to handle and to stack when not in in use to optimise space. They also have an engraved surface on the front and top edge of the food pan, to make it easy to identify the contents and to record expiry dates. No awkward corners, with rounded edges that make cleaning easy.
Food pans with perforated bases or drain trays
Perforated food pans and drain trays are the best solution to prevent food from coming into contact with the liquids or juices released during preservation. These drainers are also suitable for quicker, safer thawing processes.
In the case of fresh fruit and vegetables, their high moisture content speeds up the process of spoilage. Placing perforated bases in containers prevents food from coming into direct contact with the bottom of food pans, improving food preservation by allowing air to circulate, and preventing condensation and the build-up of water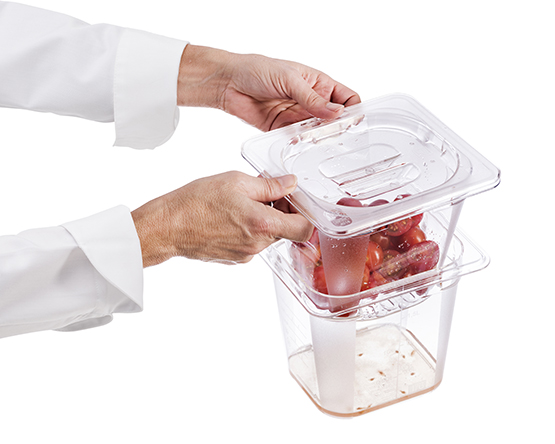 Combining food pans with drain trays or food pans with perforated bases can significantly reduce food wastage in the hospitality sector. Choose the option of drain trays or perforated food pans depending on the volume of liquid released by the food in question.  In both cases the ridged design allows liquids to drain into the base of the food pan more quickly
Gastronorm lids or contact lids
A good storage container is an essential item in a kitchen, but its lid is just as important. The organoleptic properties of quality foods can diminish if they are not kept in the right kind of containers with suitable lids. Since fish and meat, vegetables or prepared food do not need the same degree of air tightness, Araven has a wide range of different types of lids
All food must be properly lidded during preservation processes to avoid the risk of cross contamination.
GastroNorm airtight lids
Fresh food such as meat and fish, prepared food or food that is sensitive to oxidation, ambient humidity or loss of aroma such as sliced fruit, snacks, nuts, or biscuits… require airtight containers to prevent spoilage. Lids with a rubber seal close hermetically, preventing air from entering and thus reducing oxidation of the food contained.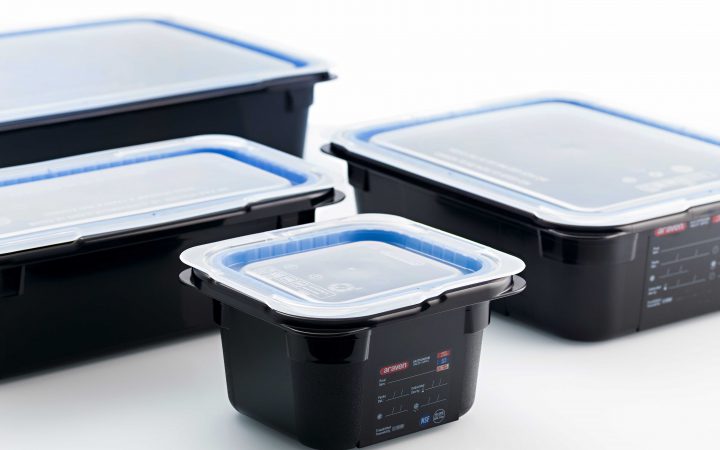 They are also the solution for preserving and transporting liquids such as creams, purees, sauces, and stocks for culinary preparations. Guaranteed no spillage of contents during preservation and transport.
GN Contact Lids
Not all fresh foods need to be kept in airtight containers. In the case of fresh fruit and vegetables, as time passes, they lose moisture, which in the case of a 100% airtight container, would condense on its wall. In this case contact lids are recommended. They protect food but avoid condensation forming inside the container.
In the buffet zone this type of lid protects food from outside contamination while on display until it is served.  The lid has a handle for easy opening.
Araven's contact lids are universal, to cover most Gastronorm food pans in stainless steel, plastic, or porcelain. The nestable lid design allows easy stacking of food pans.
The version with a notch is to rest a spoon for serving areas. Protecting food from possible external contamination until it is served to the diner.
We hope that this information is of use to you when deciding on the kitchenware items that best suit the needs of your kitchen. But do you know what's even better? They can all be combined together to create an effective, safe system for preserving food. If you need any more information please contact us or visit our website for details on all the product references in our range.