Throughout the food chain vegetables undergo different preparation processes and situations in which there is the risk of them becoming contaminated.  To avoid contamination it is essential to control the hazards that can affect food safety and to manage them correctly to minimise most of them.
In the HORECA sector the following  different stages form part of food management and food handling in the kitchen:

This guide explains about hygiene and food safety measures when handling and preserving or storing vegetables.
Hygiene measures when vegetables are received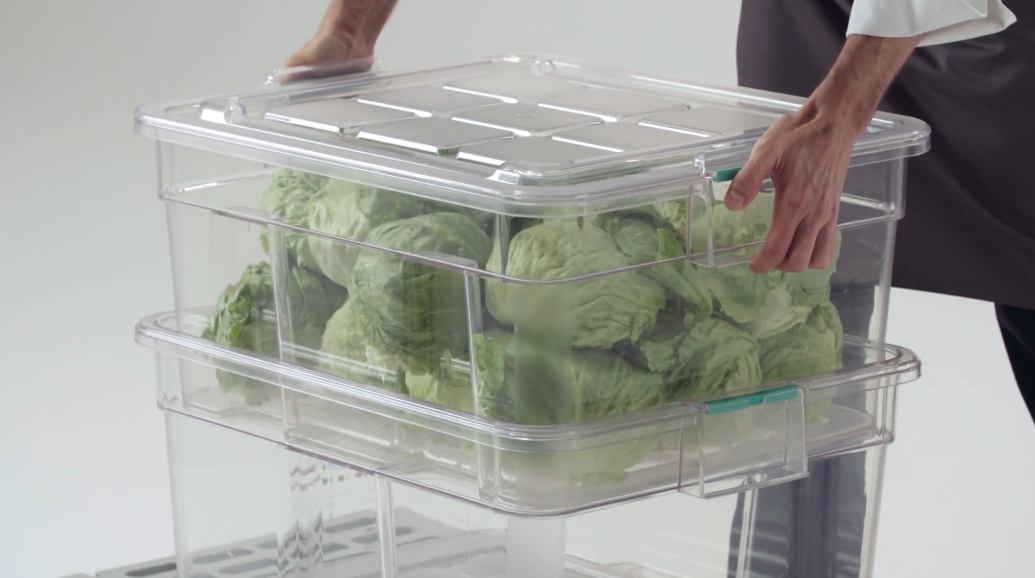 When vegetables are delivered to the restaurant kitchen we recommend:
Setting aside a specific zone for exchanging goods. There should be an area set aside for receiving/returning goods (specific zone, table, marked floor area…) located near to the goods entrance door, separated physically or provisionally from the rest of the areas.
Removing packaging from raw materials (cardboard box, plastic bag). This is the outermost packaging used during distribution and transport of the food, which  may or may not come with further wrapping.
Containers that cannot be removed and that have been in contact with the exterior during the delivery process should be completely disinfected.
In the case of fresh produce, such as vegetables, change them from the supplier's container to a clean, disinfected container in the reception zone.
Mark containers used for preserving and storing foods with all the necessary information to be able to guarantee traceability of all the products.
Recommendations for washing vegetables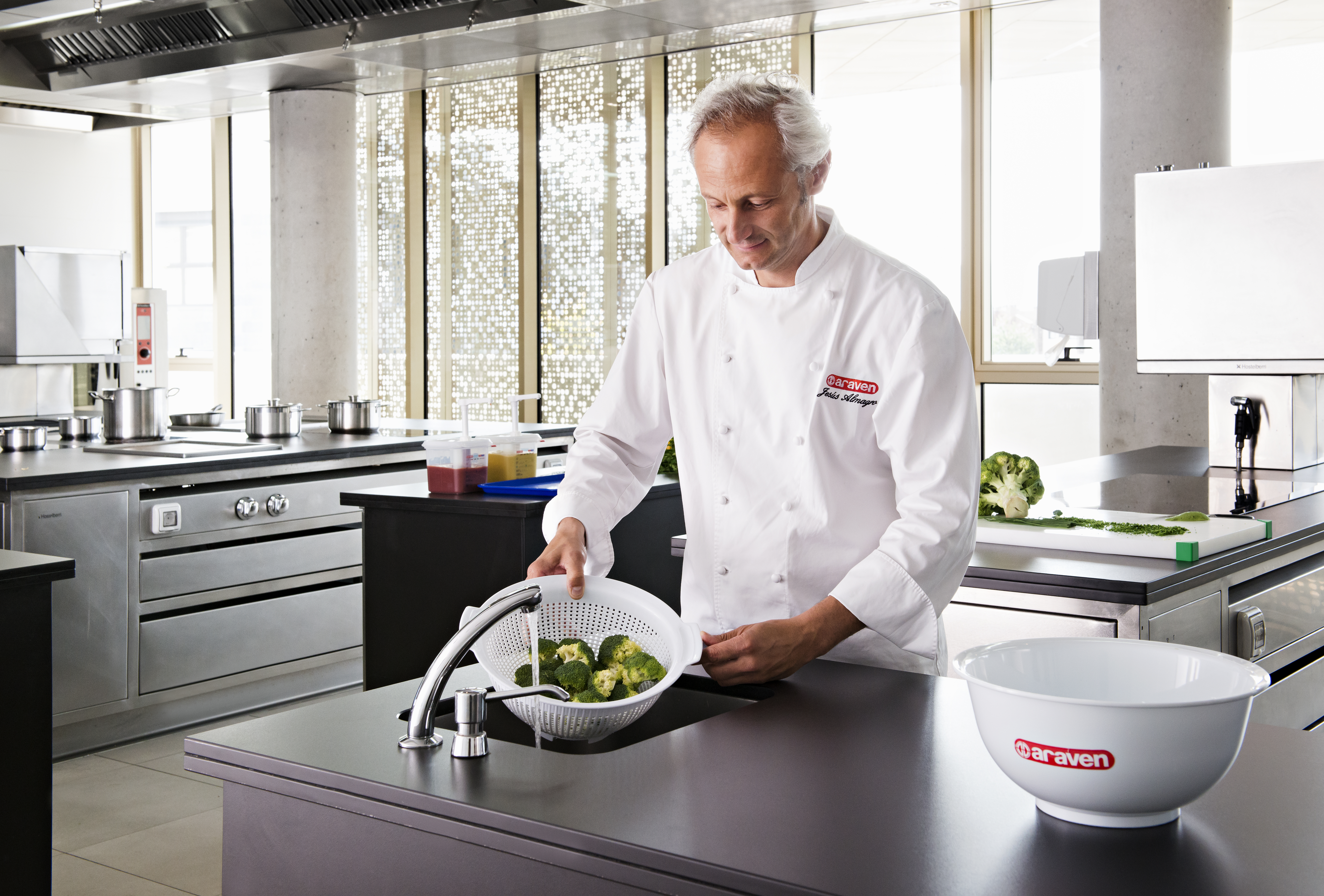 The aim in washing vegetables is to get rid of any soil, stones, insects, pesticides, etc. that may still be on the vegetables.
Wash fruit and vegetables under cold running water, especially any that are going to be eaten raw and unpeeled.
Remove any spoiled or bruised parts of fruit and vegetables.
Do not work with washed fruits and vegetables on the same surface as those that have not yet been washed.
Use specific brushes to clean foods with tough skins or some vegetables such as cucumber, courgettes..
Storage and preservation of fruit and vegetables
Fresh fruit and vegetables have a high water content. Over time, they begin to lose moisture and it can condense on the walls and bottom of the food container, causing mould to appear and making them to rot more quickly.
Correct storage and preservation of vegetables serves a dual purpose:
 To ensure optimal hygiene and food safety.
 To reduce levels of waste caused by food spoilage.
Containers for storing vegetables should not be airtight but rather should have ventilated areas that prevent condensation. Placing Araven drain trays at the bottom of containers allows air to circulate, preventing condensation and the accumulation of water at the bottom of vegetable bins.
Regardless of the storage/preservation temperature (chilled, frozen or room temperature) we recommend following a FIFO – First in, First out system and for vegetables to be kept in suitable containers and separated. Araven has containers with systems that facilitate the orderly rotation of food (FIFO).
Where to place vegetables in storage spaces
Optimal organisation of storage rooms, ensuring that food is stored
according to its group and nature, improves productivity in the kitchen while
also reducing hygiene-health risks.
It is essential to separate cooked foods or those ready for consumption from those that are still raw and, whenever possible, it is a good idea to assign the zones according to the type of food, in separate cold rooms.
It is advisable to have separate cold rooms for different types of foods. If it is not possible to store vegetables that are to be cooked in a separate cold room from those to be eaten raw, the recommendation is to place fruit and vegetables that are going to be cooked (roasted, boiled, stewed …) at the bottom of the cold room and fruit and vegetables for direct consumption at the top part.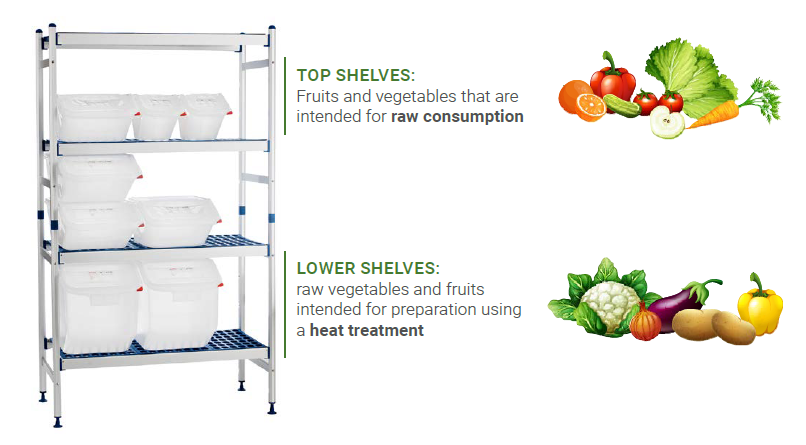 ---
Get our guide with tips and recommended products for handling and preserving VEGETABLES.

---