Available from this month, our new products for sorting waste are fully made from scraps produced during our own production processes, and after use, they can be recycled again, with a total reduction in CO2 emissions of 65%
The leading manufacturer of products for the hospitality industry is launching 18 different items available in three sizes – 22, 25 and 40 litres – and with lids in five colours to make waste sorting easy
The source of the material and design by Araven also guarantee their resistance to heat and moisture, ease of handling and cleaning, and the long life of these recycled bins as another facet of their sustainability
Araven continues to progress in its efforts to reduce its environmental impact and also to help customers to work towards this goal
Araven, the leading manufacturer of products for the hospitality industry, continues to strengthen its commitment to sustainability with its new range of recycled, recyclable and reusable waste bins. Available in three sizes and with five colours for classifying their use, this article retains all the advantages of design, durability and usability that set the range of Araven products apart with added benefits for the environment. Because they are manufactured from 100% recycled plastic and are also fully recyclable, their impact on global warming is reduced by two thirds.
Araven has started manufacturing the sorting bins from plastic waste produced during its own production processes, such as those involved the company's prestigious airtight containers. Scraps are turned into pellets and reused as the only material that goes into new products, without losing any of its properties. In this way, the company is cutting down on its consumption of natural resources and no longer generates waste. Instead, any waste is used as raw material, fostering the circular economy and reducing energy use and the negative environmental impacts associated with virgin raw material extraction and processing.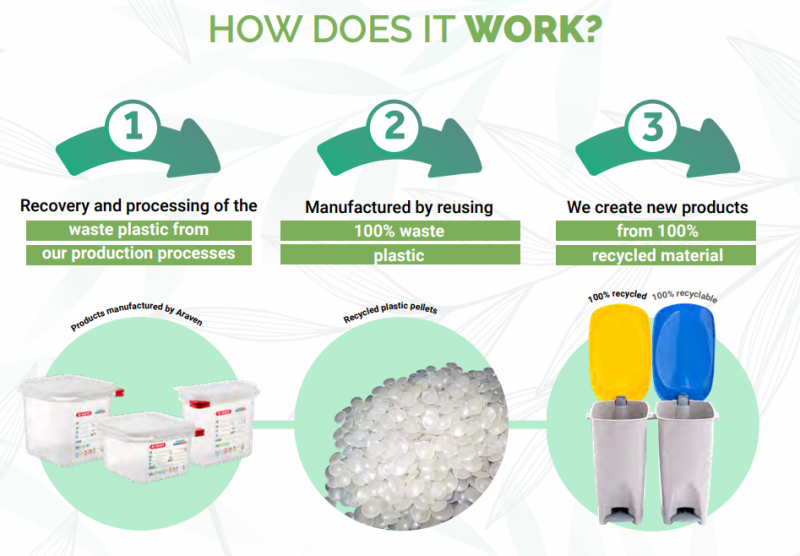 3R bins are available in three sizes: 22 litres, with pedal-operated lid and system for joining bins together; 25 litres, also pedal operated; and 40 litres, with swing lid and side handles for ease of use. The lids come in five colours for all sizes, each corresponding to the colour coding for classifying waste and recycling to make sorting (grey, brown, yellow, green and blue) and subsequent treatment easy.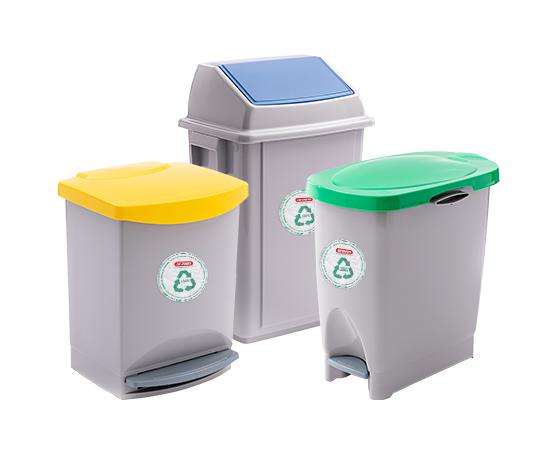 Moreover, the source of the material and design by Araven also guarantee a product of the highest quality, another facet of its sustainability. The recycled bins come with guaranteed mechanical and moisture resistance, are easy to handle and clean, and offer a long life under the most punishing conditions of the professional environment.
In addition to its exclusive airtight containers, an essential aid from more than thirty years for the prevention of food waste, Araven offers a catalogue of more than 700 different items designed for reuse and to reduce negative environmental impacts.
SUSTAINABILITY AS A HALLMARK
Through this new product, which updates and expands the existing line of waste bins, Araven again demonstrates that its determination to reduce its impact on the planet in all aspects of the work it does are its hallmark. The use of recycled materials and research to offer durable and functional products that help to save energy and prevent food waste are defining features of the three divisions of the Araven Group: products for the hospitality industry, shopping baskets and trolleys, and visual merchandising. Also in its daily activity, the company continues to implement measures to reduce waste production, save energy, and make the most effective use of resources.
The company's goal is not only to reduce its own environmental impact, but also to encourage its customers to join the fight against the climate emergency and contribute to looking after the planet for future generations. In order to consolidate this strategic commitment, the company created its Sustainability Department in 2021.
ARAVEN GROUP, PROFESSIONAL SOLUTIONS
In 2020, the Spanish company Araven and Grupo OM, two companies in which GED Capital holds a stake, agreed to merge under the new name Araven Group. This has allowed the new group to strengthen its lead in the manufacture of products for the retail sector – with shopping baskets and trolleys, and visual merchandising – and the hospitality industry.
This union has consolidated a stronger and more solid group that is able to respond more capably and effectively to the demands of the market at a time of profound transformation. The Araven Group, whose logo combines the names Araven and OM with the motto "Passion to Innovate", has three business lines: hospitality, shopping baskets and trolleys, and visual merchandising.