Araven has reaffirmed its leadership in the production of professional hospitality equipment, expanding its highly regarded range of airtight food containers with 14 new square models that to enjoy all of the unique features of the company's star item, while also optimising storage to ensure that no space is left unfilled.
These new square containers are perfect for optimising storage and cold room space. They are available in polypropylene and glass-like polycarbonate with an LDPE lid which, since it is more flexible, provides an airtight seal, helping preserve the stored product for longer.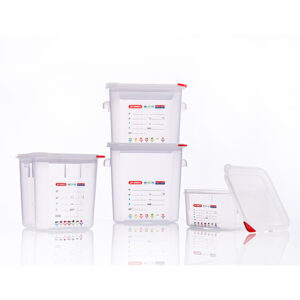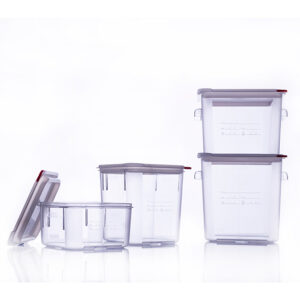 They are perfect for storing dry foods in bulk (pulses, cereals, nuts, etc.) because they don't let humidity in, thus avoiding damage to the food. They also help to protect foods that are susceptible to oxidation or loss of aroma (biscuits, snacks, dehydrated goods, spices, etc.) and, since they are airtight, they are suitable for storing and transporting sauces, creams and other liquid products. All you need to do is apply pressure to all four corners of the container lid until you hear a "click" to make sure that it is properly sealed, and there is a tab that makes it easier to open.
This range of square containers is available in seven different capacities: 2, 4, 6, 8, 12, 18 and 22 litres, and all sizes are available in both materials.
Furthermore, the permanent traceability label, which is built into the polypropylene container, clearly and simply displays the necessary information to identify the product, ensuring correct health and hygiene practices and complying with traceability regulations. All you have to do is use the Araven marker to write information such as the date of preparation, expiration date or origin on the label. This system does not require sticking or removing paper labels and does not leave any residue after washing.
This practical design is replete with interesting details, such as side handles to make them easier to handle and transport, rounded edges to avoid any residue accumulation and make it easier to pour liquids, textured corners and base to protect against scrapes, measurements engraved into the surface and a stackable shape, among many others.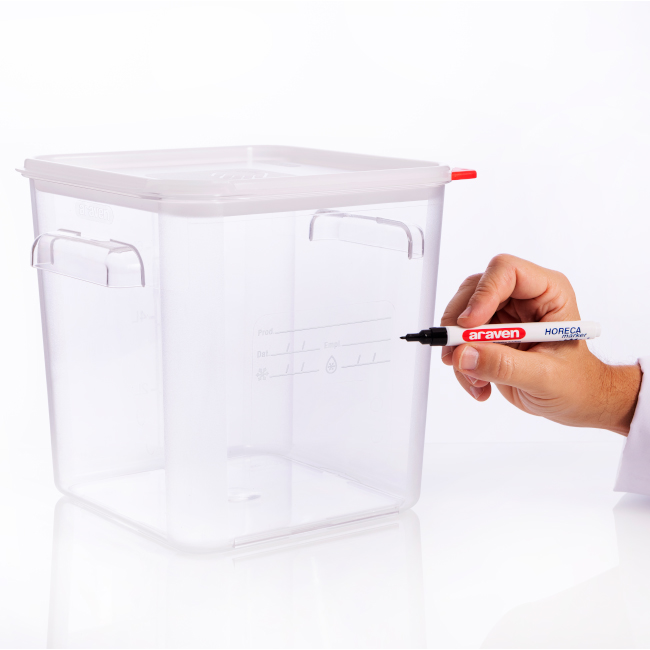 Further information about these square food storage containers here