These new products are stackable when not in use to optimise storage space and they also feature a lid with two positions of use and safe closing. Available in three capacities (1, 1.4 and 1.8 litres) and in two materials: BPA-free polypropylene and polycarbonate

Araven continues to add to its catalogue of products for the hospitality industry, which now totals almost 700 references that respond to the needs of the most demanding professionals, as well as preventing health hazards and promoting sustainability.

(Zaragoza, 26 January 2022).- Araven reinforces its leadership in the  Horeca sector with the launch of its new range of jugs, which features a stackable design,  a lid with two positions and highlights the importance the company places on sustainability. Once again the firm shows its commitment to offer hospitality professionals articles that are specially designed to facilitate their daily work, to comply with health and hygiene regulations, to reduce costs and to promote care for the environment. On this occasion the product is aimed for use both in kitchens back as well as front of the house service.

One of the main features of these new Araven jugs is that they are totally stackable (both the vessel and its handle). This means they can be stacked away when not in use to optimise storage space.

Another special feature is the jug lid with its dual position, closed and for pouring. The former protects the jug's contents from external contamination making it easier to carry without any spills. All you have to do then is to turn the lid and pour the required amount. In addition, the jug has a mesh to prevent solids such as ice cubes or fruit from splashing  when pouring liquids.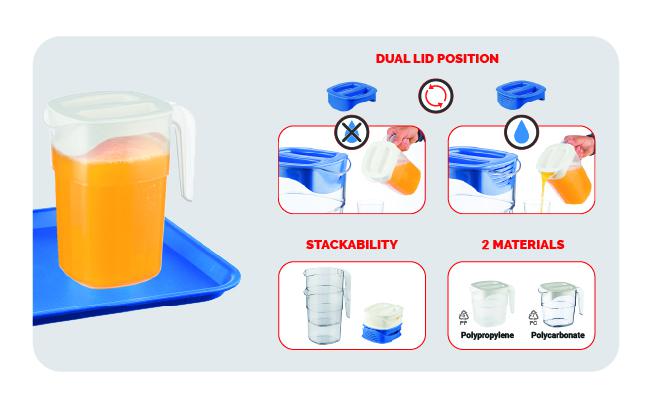 The jugs are available in three capacities (1 litre, 1.4 litres and 1.8 litres), with the additional advantage of sharing the same lid. Available in two materials: BPA-free polypropylene and polycarbonate. In both options, the jugs are reusable and recyclable, highly durable and ideal for use in restaurants and catering establishments: they are transparent and dishwasher-safe.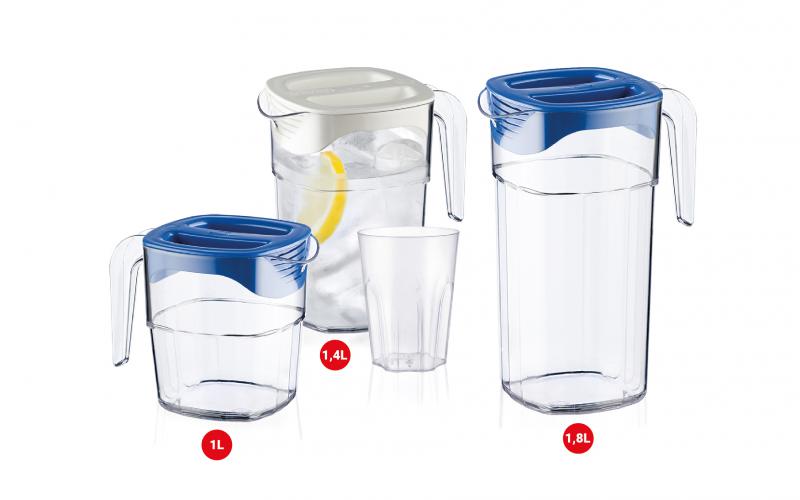 A TOOL TO HELP REDUCE WASTE AND CARE FOR OUR PLANET
As well as complying with European regulations on food contact materials and objects and aiding in the application of Correct Hygiene Practices, Araven's range of jugs is also aligned with the target of reducing the use of disposable containers.
Establishments can now provide non-packaged water, as a free complementary addition to their offer, to help reduce single-use plastics and products and encourage the use of reusable containers. The characteristics of these jugs meet all of these targets and thanks to the different sizes, adapt to individualised consumption.  Further differentiating characteristics are their strength along with their functional, easy-to-clean design.
But above all Araven stands out for its commitment to sustainability and to the future of the planet in all its work as a company. Reducing the generation of emissions in its activities, implementing environmental value management in all of its processes and its focus on supplier relations are aspects that define the way in which the company acts to encourage care of the planet and the circular economy as keys to the future.
These jugs join the almost 700 references that already form part of the 2022 General Catalogue of Araven's Hospitality Division. Always exclusive products, developed in collaboration with the world's best chefs, aiming to offer the industry's professionals added value at all the stages in food management and to promote sustainability in kitchens.
ARAVEN GROUP, PROFESSIONAL SOLUTIONS
The Spanish company Araven and Grupo OM, two companies in which GED Capital has a shareholding, have merged under the new name of Araven Group. The new group thus strengthens its leadership of the retail equipment sector, shopping baskets and carts and visual merchandising, and the HoReCa industry.
The merger consolidates the group as a stronger, more robust organisation capable of responding on a larger scale and more effectively to market demands during times of major transformations. Araven Group combines the names of Araven and OM in its logo under the slogan "Passion to Innovate" and operates three business lines: hospitality, retail equipment and visual merchandising.