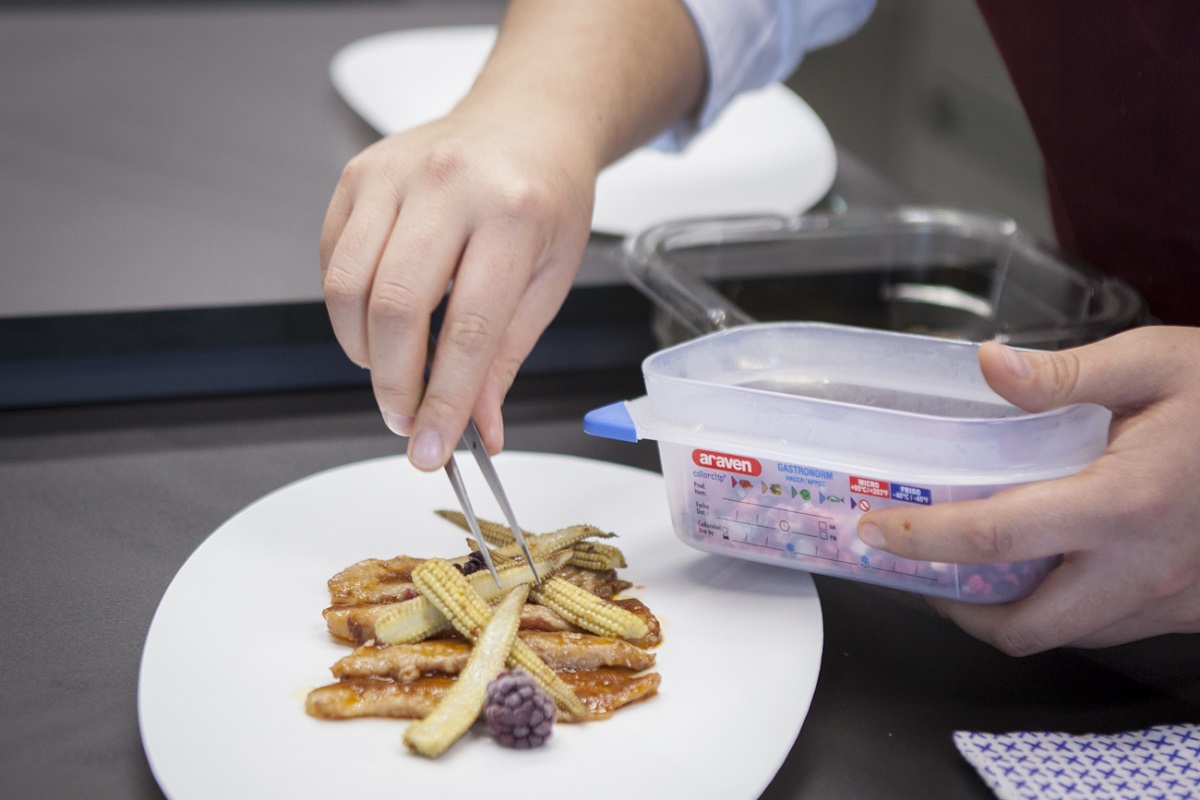 The benefits of Araven for your kitchen
Araven wants to offer you the best solutions for your foodservice establishment. If you are a hospitality professional, we want to simplify your day-to-day life in the kitchen with easy-to-use, versatile, sustainable tools and with all the guarantees in hygiene-food matters that help to comply with regulations and develop labor safety
It's important to streamline daily tasks in professional kitchens and to find solutions to:
Guarantee food safety in restaurants
Food hygiene and food safety is the number one priority in restaurants. Food intoxications, apart from affecting the health of diners, can also affect the prestige of a business and lead to serious financial loss and even legal problems.  For this reason it is of paramount importance to apply the principles of Hazard Analysis and Critical Control Points (HACCP), a systematic preventive process to manage food risks and safety.
Improve operational excellence in the kitchen
Hospitality professionals more than anyone else know just how important it is for kitchen work areas to be well organised. Food preservation and storage rooms/areas have to be properly organised to reduce hygiene-health hazards, improve productivity and help ensure efficient kitchen management and the implementation of HACCP systems in restaurants.
The following are the main advantages of having well organised, optimised food storage room.
Increases storage capacity
Makes it easier to keep everything clean and orderly.
Improves the visibility and identification of food.
Improves accessibility to foodstuffs. Easy access to foods in any of the stacked containers without having to unstack them is a great advantage in terms of speed and orderliness.
Improves stock management, strict control of expiry dates and control of minimum durability dates as well as correct food stock management, applying FIFO methods.
Reduces food waste.
Reduces energy consumption in food storage rooms.
Improve the profitability of your business
Cost savings and continuous improvement in restaurants is something that can be applied to all aspects of management, including food preservation. Waste and the amount of food that is thrown away due to poor provisioning and kitchen management not only results in problems of sustainability, but also represents higher costs for your business.
To combat food waste, good planning and organisation of food purchases and choosing the right food storage containers will help reduce waste and, in turn, improve business profitability associated with provisioning raw materials and ingredients.
Make your company more sustainable
Currently, plastic has become one of the materials whose use can be most reduced in a relatively simple way: by opting for reusable or returnable containers. For this reason Araven works on durable products made with  effective materials and processes:
✅ We use the minimal material in the manufacture of our products, without this diminishing quality or functionality.
✅ We promote the use of reusable, recyclable products in all hospitality or food service processes and carry out awareness-raising campaigns among professionals.
✅ The quantity of food that is thrown away due to poor food preservation management not only generates problems of sustainability but also entails a considerable additional cost for businesses. Correct food preservation reduces the level of waste caused by food spoilage thus generating less food wastage.

The benefits of Araven for your kitchen
Araven wants to offer you the best solutions for your foodservice establishment. If you are a hospitality professional, we want to simplify your day-to-day life in the kitchen with easy-to-use, versatile, sustainable tools and with all the guarantees in hygiene-food matters that help to comply with regulations and develop labor safety Discover all that Araven … Continued
Read more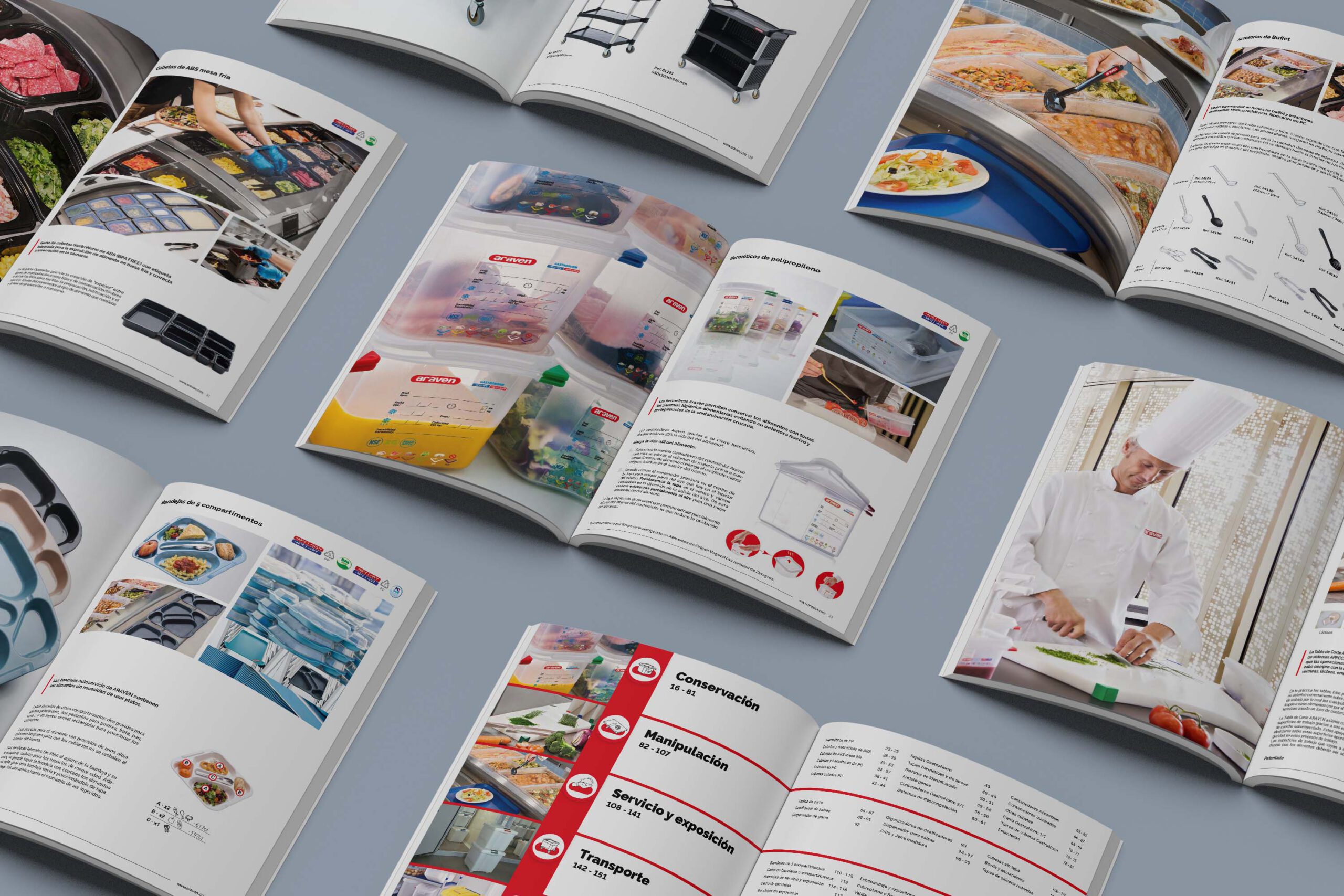 Araven's new 2021-22 foodservice catalogue
This new catalogue is a comprehensive reference guide with information about food safety (legal regulations, characteristics of different materials…) and the benefits of all the different articles geared towards enhancing operational excellence and business profitability. The 2021-22 catalogue has an additional 180 references, including products that Araven has launched in recent months, such as the new comprehensive ranges of Basic polycarbonate food pans … Continued
Read more